It's raining. Again. And all your plans are messed up because of this. Well, maybe not all of them. You can still spend some quality time together, even though the weather is not that friendly. By "quality time together", I literally mean TOGETHER, not browsing your smartphones, checking Facebook or keeping up with the latest posts on your favorite blog (unless the blog is 2 in a Billion, of course:P). You can defy the rain and still have lots of fun even though you have to stay indoors.
We've put up a list of 5 amazing things to do on a rainy day with your boyfriend/girlfriend and we hope you'll try at least one of them and enjoy it.
1. Enjoying the rain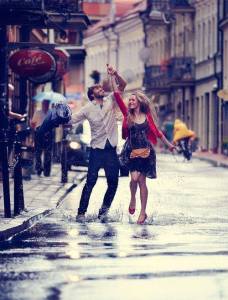 Unless you're God, there is nothing you can do to stop the rain, so the only thing you can actually do is enjoy it. If it's a hot summer rain, you have one more reason to just go out in the pouring rain, get wet and have tons of fun. If it's not that hot outside, you can still go outside and "play", but with moderation :)).
So, take your camera, your umbrella and rubber boots and go for a walk. Go to a park or to your favorite place and take pictures in the rain (with or without the umbrellas). It's your moment of glory to make those silly faces you have always wanted to catch on the camera. :))
If you're not that brave, you can still enjoy the rain on your balcony or porch. Prepare yourselves 2 cups of hot coffee or tea and reminisce common or individual stories with the sound of rain in the background. This is also a great way to get to know each other a little better (if you haven't done so by now).
2. It's dessert time!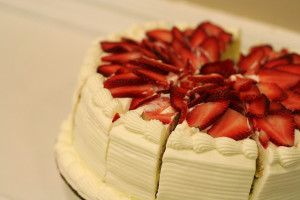 Only that this time you'll be the one cooking. Let's face it! We all love a sweet treat from time to time, but we don't always have the time (or courage) to actually prepare it. If it's raining and have nothing else to do, then how about cooking a romantic dessert together? Go shopping for the ingredients and then hurry back home to prepare your (probably) first dessert.
It's going to be quite funny to "play" with that flour, essences, fruits and delicious creams and it's going to be even more rewarding when you'll see the finished product. Or at least we hope so… Also, nothing compares with the smell of a baked cake on a dark, rainy day. Anyone else here remembering his/her childhood?
Enjoy this dessert with a glass of champagne or sweet wine and you'll completely forget about the rain outside.
3. If it's water, let's play with it!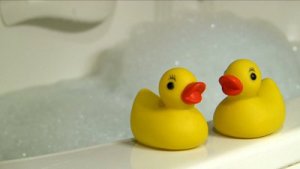 Well, I'm not talking about the rainwater, but how does the idea of an indoor water park sound like? 😀 If you live in a big city, you probably have one of those and now it's the perfect time to visit it. This is a perfect rainy day activity for two because it will keep you occupied throughout the day and will also be relaxing and lots of fun. It will also be a great way to remember those crazy summer days.
If you don't have this type of indoor water park in your town, then you can go for a more intimate and romantic approach: the famous bubble bath. Add some scented candles and two glasses of wine and you'll have an amazing romantic date for a rainy day. Not to mention that it will also warm you up if it's cold outside. You can play with all that foam, but it's at your risk: who cleans the bathroom afterwards? 😛
4. Play it for the win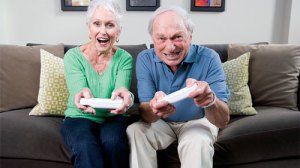 If it's raining, it's the perfect time to play some video games. Turn on your super powers and get ready to kick your partner's ass (well, not literally, God forbid!). Whether it's Play Station, Wii or Xbox, it's great for a rainy day and it makes a fun and interesting activity. If it's the kinetic version of these systems, it's even better because it will also allow you to do some workout. :)) Who says you can't have fun on a rainy day? 😀
5. A drive to remember 
It's not always indicated to drive when it's raining, but when it's for a romantic purpose, it's admitted. 😛 Just get in the car, turn on your favorite music and drive to the outskirts of the town, but make sure it's a place from where you can see the city from above and that offers a nice panorama. Just sit there for a while and enjoy the music, the rain and the conversations you're having. It's a relaxing activity and a way to know each other better or just start topics you've never talked about and discover new things about your boyfriend / girlfriend. Bring goodies so that you can even enjoy a mini-picnic in the car. 😉
Here are our 5 things to do on a rainy day for couples. Do you have other interesting rainy day activities to share? We'd love to hear them. 🙂